Austrian-Vietnamese ASEA-UNINET Days 2016 – a review
In the period of 5-9 December 2016 in Vietnam, ASEA-UNINET held in collaboration with the Austrian Embassy the "Austrian – Vietnamese ASEA-UNINET Days in Vietnam" as one of the commemorative activities towards the 45th Anniversary of the establishment of Austrian – Vietnamese diplomatic relations. The event started from 5-6 December, 2016 at Hanoi University of Science and Technology (HUST) campus in Hanoi, continued at University of Danang in Da Nang (7 December, 2016) and finished at University of Medicine and Pharmacy, Ho Chi Minh City in Ho Chi Minh City (8-9 December, 2016). A delegation of Austrian University Professors in the areas of Informatics, Food Science and Biotechnology, Medicine, Economics, Geology and Music travelled to Vietnam to meet interested researchers.
The main objective of the "Austrian – Vietnamese ASEA-UNINET Days in Vietnam" is to promote the research collaboration among Vietnamese and Austrian universities and disseminating ASEA-UNINET grants including sandwich grants, PhD grants, Postdoc and short-term research grants to young university staffs in Vietnam. According to the Austrian ambassador to Vietnam, H.E. Dr. Thomas Loidl, the Austrian – Vietnamese Diplomatic Relation which was established in 1972 is excellent and based on mutual trust and friendship: "An important objective for the Austrian Embassy in Hanoi is to strengthen the relations between Vietnam and Austria in all sectors, not only in the political and economic field but also in the important sectors of science, research, technology and education" – he said and highly appreciated the contributions of ASEA-UNINET as well as the initiative of the "Austrian – Vietnamese Asea-Uninet Days in Vietnam".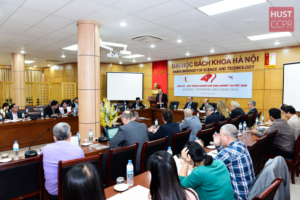 Further information is provided by reports on the webpage of Hanoi University of Science and Technology (HUST) – either in English: http://htqt.hust.edu.vn/en/news-event/570-ao-viet-nam-tang-cuong-hop-tac-trong-giao-duc-va-nghien-cuu.html or in Vietnamese: http://www.hust.edu.vn/tin-tuc/-/asset_publisher/AKFI5qRls1e8/content/ao-viet-tang-cuong-hop-tac-trong-giao-duc-va-nghien-c-1
by a news post at the website of the University of Danang – in Vietnamese: http://www.udn.vn/posts/view/2753/78
and by a report on the webpage of the University of Medicine and Pharmacy, Ho Chi Minh City – in Vietnamese: http://www.yds.edu.vn/yds2/?Content=ChiTietTin&idTin=21113&menu=