ASEA-UNINET Students Week
on Sustainable Development

Program Description
The ASEA-UNINET STUDENTS WEEK is an academic mobility program, designed to faciliate graduate students from ASEA-UNINET Universities' member to participate on a short program with a duration of two weeks and earned three credits (with 44 contact hours) upon completion. As an active member of ASEA-UNINET, the Universitas Indonesia (UI) has initiated to host the ASEA-UNINET STUDENTS WEEK from December 3rd to December 16th 2017 at the Universitas Indonesia.
This program is specifically designed so that the participants not only benefit academically through in class lectures (with multi disciplinary field of study approach), but also get the opportunity to having an internship or field study and given the exposure of Indonesia culture through the cultural engagement included in the program.
"Sustainable Development", chosen as the theme of this year program, aims to encourage participants to have broaden intellectual and awareness on the importance of sustianability which has been a global issue and challenge faced by modern society.
This program offering one special course about Sustainabile Development with a multidisciplinary approach. Prominent lecturer from Health, Science & Technology and Social and Humanities field of study will teach the classes.
Participants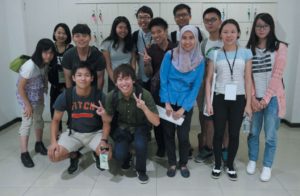 Universitas Indonesia invites every ASEA-UNINET member University to send two students as the representatives from each University to join this program.
To have a balance in terms of gender, please nominate one female and one male student.
Eligibility
Students from graduate program in any major can apply
Have completed at least one year of full-time study at the time of application at your home institution
Be recommended by your university, proven with a nomination letter from home institution
Be able to actively communicate in English, proven with minimum score of or its equivalent: TOEFL ITP: 510, TOEFL CBT: 180, TOEFL IBT: 64, TOEFL PAPER: 510, IELTS 5.0, TOEIC: 600
Program Content
In-class lectures: The in-class lectures will be delivered by prominent scholars from various field; Engineering, Social and Political Sciences, Law, Humanities, Public Health, Economic & Business, and Mathematics & Sciences.
Internship/Field Study: Short internship/Field study will take place at offices or institutions that are related to topic of the program. This internship/Field study is provided to enable participants in obtaining first hand experience about contemporary issues on related topic from various sectors.
FGD and Presentaiton: FGD and presentation session will be one of assessment tools to review participants' learning outcome. The assigned lecturer will review each participant for both individual and group performance.
Language and Cultural Sessions: Language and cultural exposures are provided for participants to experience cultural diversities and similarities between the participant's origin country and host country's culture. Participants would get opportunity to learn language and traditional culture of host country, including cultural activities such as cultural trip to explore traditional cuisine, performance or music.
Program Fee
Programm fee is 380 USD*/person which includes airport transfer on departure and arrival, meals during the program (exlude dinner), program materials, certificate of participation and cultural activities during the program.
Scholarship
Universitas Indonesia is pleased to provide scholarships to those students nominatd by ASEA-UNINET member universities, including:
free accomodation and program fee waiver for the 1st nominated student
free accomodation for the 2nd nominated student
How to apply
Please send the completed registration form to your International Office or any related official office. UI will not accept direct application for this program.
Submit Pre-Program Essay: Participants of the program are required to submit two pages essay. The essay should be about general information or understanding about Indonesia and their expectation towards the programme. It should be submitted one week before their arrival at the latest.
Submission deadline: 31 th October 2017
Payment deadline: 6 th November 2017
Post Program Essay
For Post-Program, students are required to submit three pages essay at the lates three weeks after the program about their opinition on how is the sustainable development in Indonesia, about the program and the benefit of participating in this program.
How to pay
Bank transfers to this account:
VIRTUAL ACCOUNT NAME: UI CREATES
VIRTUAL ACCOUNT NUMBER: 8881-927-103006-253
BANK NAME: BNI KANTOR CABANG UI DEPOK
SWIFT CODE: BNINIDJAUID
Then send the transfer receipt to ismi.rahmawati@ui.ac.id and wait for the payment confirmation.
For registration/information
Ms. Ismi
International Office UI
Central Administration Building 1st Floor
email: ismi.rahmawati@ui.ac.id
phone/fax: +62 21 7888 0139