Project Description
Introduction
Proteomics has gained increasing interest in the field of biosciences and has become one of the most growing disciplines within the systems biology. It plays an important role in characterization of biological processes as it is a complementary technology to genomic as well as transcriptomic research. An essential part of modern proteomics is the biological mass spectrometry. It has become the most ubiquitous tool in analytical and biochemistry and has definitively revolutionized the field of biosciences with regard to protein analysis. Without biological mass spectrometry the new discipline of proteomics would not exist. Particularly, the biological mass spectrometry has been shown to be the method of choice for characterization and evaluation of therapeutic proteins. It can provide detailed information not only on amino acid sequence but also on their alteration and post translational modifications. Using proteomics approaches it could be shown that the gene and protein expression patterns of related subspecies can vary considerably.
Especially, the identification and analysis of biomarkers and proteins in the field of veterinary science is very challenging due to the broad spectrum of species analyzed starting from working and companion animals as well as their pathogenic bacteria, viruses and parasites. Performing proteomic approaches on such a variety of organisms the major difficulty is missing database information about protein sequences of species with hitherto not sequenced genomes.
Additional part of the workshop included microscopical imaging, which provided a detail overview of the practice of light microscopy as applied to scientific investigation. Emphasis were on the use of the light microscope by biological scientists and principles of Transmitted Light and Fluorescence Microscopy.
Project Description
The first ASEA-UNINET workshop on Proteomics, Biological Mass Spectrometry and Bioimaging was organized and was hosted at Kasetsart University, Bangkok, Thailand, on November 21-22, 2017.
The workshop was organized by Ass. Prof. Dr. Natthasit Tansakul from the department of Pharmacology, Faculty of Veterinary Medicine, Kasetsart University, together with colleagues from the department of Physiology, who made tremendous efforts for this perfectly organized workshop. Further co-organizing the workshop were Dr. Sittiruk Roytrakul, head of the Proteomics Research Laboratory, National Center for Genetic Engineering and Biotechnology, Pathum Thani, Thailand, and his coworkers.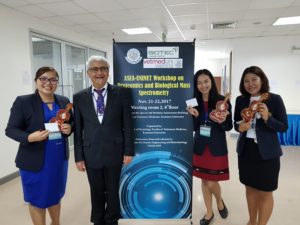 From Austria, three lecturers of the University of Veterinary Medicine Vienna, Prof.Dr. E. Razzazi-Fazeli, Dr. Martin Glösmann / Vetcore and Prof.Dr. Wolf-Dieter Rausch / Inst. of Medical Biochemistry contributed to the workshop.
 Aim of the Project
The project aimed at giving a theoretical introduction in to biological mass spectrometry and bioimaging combined with a practical training involving transfer of knowledge. The program implicated academic staff of Thai partner universities, postgraduates, PhD and master students, researchers as well as pharmaceutical industries. The workshop was a problem based and oriented training course and knowhow transfer program.
The workshop was attended by 35 participants from different universities in Bangkok as well as companies in Thailand.
Day. 1. Preparation of Workshop and Training course
Meeting the Dean Prof. Khongsak Thiangtum / Faculty of Veterinary Medicine, Kasetsart University and ASEA-UNINET coordinator of the Vetmeduni Vienna, Prof. Wolf-Dieter Rausch. Discussion was focused on the Memorandum of Understanding, which was signed between two universities in Vienna on 17.04.2012. Both sides agreed again to pursue collaboration on academic and research levels. Especially the exchange of university members for teaching and training was discussed to be encouraged. An important point was that both sides decide to enhance student exchange. The Austrian delegation visited the small animal hospital and discussed the possibilities for veterinary students and internships from Austrian to spend research stays at Kasetsart University.
Meeting with workshop organizing committee at the Faculty of Veterinary Medicine, Kasetsart University in order to discuss details and to prepare workshop and training course for next two days. Emerging points as well as organizing aspects were discussed deeply.
Day 2. Opening, Introduction and Theoretical Part
Prof. Dr. Tanu Pinyopummintr, the Vice Dean for International affairs of Kasetsart University welcomed the participants and lecturers in the opening ceremony. Prof. Rausch gave an introduction and overview on the activities of ASEA-UNINET with Thailand and the Cooperation with the University of Veterinary Medicine in Vienna based on a Memorandum of Understanding signed in Vienna.
| | |
| --- | --- |
| Opening speech by Prof. Dr. Tanu Pinyopummintr | Talk by Prof. Rausch |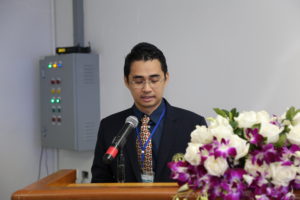 Prof. Natthasit Tansakul was essentially
involved in the organisation of this WS
The first day, workshop started with a lecture on Proteomics: A Novel Tool in Biomedicine, in which a detailed overview of this discipline and its potentials for veterinary medicine and biomedicine research was elucidated. In a further lecture an introduction to biological mass spectrometry and its relevance in biomedical analysis was highlighted by Prof. Razzazi. The fundamental of Electrospray ionization (ESI) and Matrix Assisted Laser Desorption/Ionization (MALDI) was discussed exemplified and identification of proteins and biomarkers relevant in the veterinary sciences were discussed further.
Another topic of the workshop was Bioimaging. Dr. Glösmann provided an overview of the role of Bioimaging in veterinary basic research.
The last lecture of day was on application of MALDI-TOF in bacterial identification, which was contributed by Dr. Jaran Jainhuknan from Bruker company. He highlighted the basics and application of MALDI-Biotyping, which is a very fast and accurate method in clinical microbiology.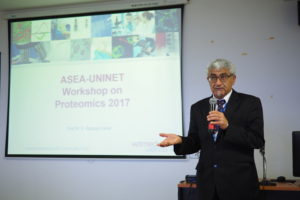 Lecture on Proteomics by Prof. Razzazi
Day 3. Practical Work and Hands-on Training
On the second day participants were brought to the Proteomics Research Laboratory, National Center for Genetic Engineering and Biotechnology, Pathum Thani near Bangkok. The main focus on the second day was on practical work directly on high resolution mass spectrometers. Dr. Sittiruk Roytrakul, head of the proteomics research laboratory, and his coworkers organized the laboratory work as well as a demonstration on the instruments. The practical work included sample preparation and measurement of samples for bacterial identifications using MALDI-Biotyping on Ultraflex II Instrument (Bruker). In addition, participants performed a shotgun proteome sample preparation and analysis including protein identification in a human serum samples using a Quadrupole Time of Flight high resolution mass spectrometer (Impact II, Bruker).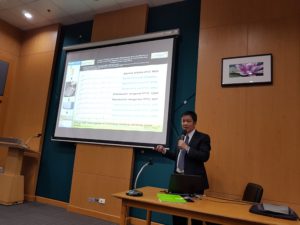 Introduction by Prof. Roytrakul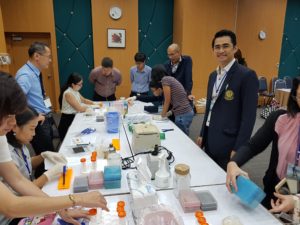 Practical training on bacterial identification by MALDI-biotyper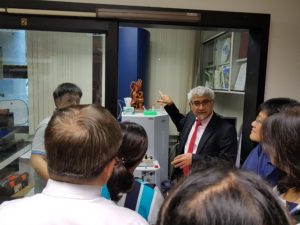 Training on high-resolution mass spectrometer Bruker
The final lecture was given by Prof. Razzazi-Fazeli and Dr. Jaran Jainhuknan on MALDI-Imaging as a new and powerful tool in histopathological investigation of tissues as a part of clinical proteomics.
At the end of the workshop an interactive secession by trainers and participants reviewed and highlighted the potential and advantages, applications as well as disadvantages of each method. In addition, strategical considerations were discussed further.
The workshop was then evaluated by all participants. As a general outcome, the workshop was appreciated as proactive and interactive in coming to grips with important strategies and methods utilized in modern proteomics.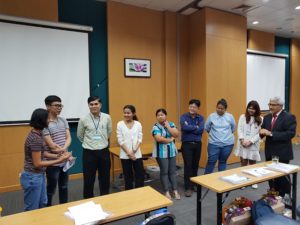 Further discussion of results by participants
Certificates of participation were then awarded to each of the participants by Dr. Natthasit Tansakul and Prof. Razzazi. The training-workshop was closed by Prof. Rausch.
The financial support of the Faculty of Veterinary Medicine, Kasetsart University is much appreciated. Moreover, Bruker (Thailand) and Ward Medic (Thailand) partially sponsored the workshop.
The organizers appreciate the engagement and support that colleagues from Faculty of Veterinary Medicine as well as from proteomics research laboratory, National Center for Genetic Engineering and Biotechnology showed to this perfect and rounded off workshop.
The organizers want to thank ASEA-UNINET organization and Faculty of Veterinary Medicine, Kasetsart University and the following companies for their contributions to the workshop; Bruker (Thailand) and Ward Medic (Thailand)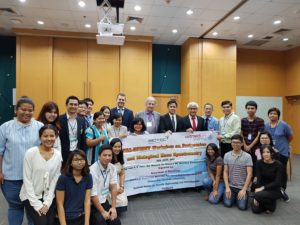 Closing ceremony
Project Details
Date Januar 29, 2018
Tags Biology, Chemistry